Olivier-award-winning actor, bestselling author and national treasure Celia Imrie talks about her novel Orphans of the Storm, an epic story set against the backdrop of the fateful voyage of the Titanic. With actor and director Fidelis Morgan.
Celia Imrie is an Olivier award-winning and Screen Actors Guild-nominated actress. She is known for her film roles in The Best Exotic Marigold Hotel, The Second Best Exotic Marigold Hotel, Calendar Girls and Nanny McPhee. Celia Imrie has also starred in the major films Bridget Jones's Baby, Absolutely Fabulous: The Movie, Year by the Sea and A Cure for Wellness. In 2016 she appeared in FX's new comedy series Better Things, and returned to the stage in King Lear at The Old Vic. Celia is the author of an autobiography, The Happy Hoofer, and four previous novels, Not Quite Nice, Nice Work (If You Can Get It), A Nice Cup of Tea and Sail Away.
Fidelis Morgan is an actor, director and writer of plays, fiction and non-fiction. She worked as a researcher for Orphans of the Storm.
About Orphans of the Storm
Nice, France, 1911: young seamstress Marcella Caretto is determined to divorce her controlling husband Michael. But while awaiting the judges' decision on the custody of their two small boys, Michael receives news that changes everything. Meanwhile New York socialite Margaret Hays is heading home aboard the RMS Titanic. As the ship sets sail, carrying two infants bearing false names, the paths of Marcella, Michael and Margaret cross – and nothing will ever be the same again.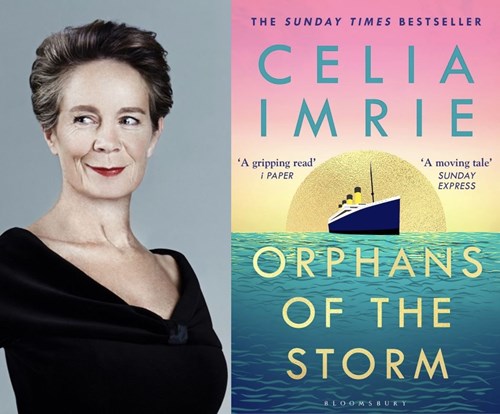 This event will have subtitling by Stagetext to make it more accessible to audiences who are deaf, deafened or hard of hearing. 
This is a hybrid event taking place in-person and online. To book a ticket for the live steam, click here.
Sponsored by Wilkinson Woodward