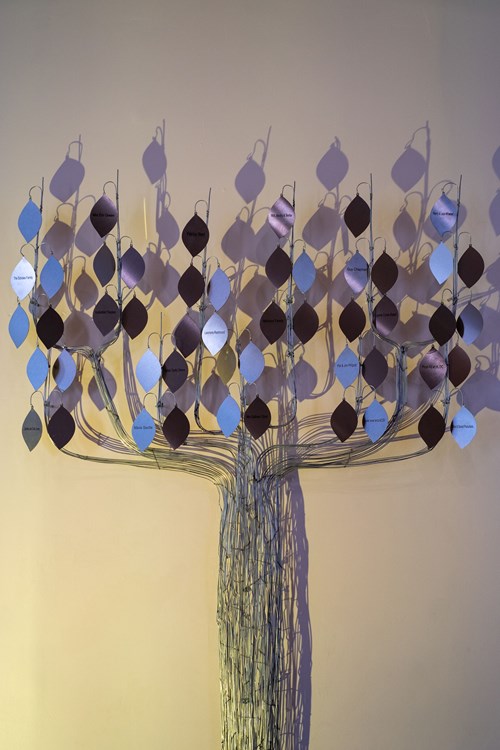 As part of our A Theatre For Tomorrow fundraising campaign to redevelop our building, we commissioned a new sculpture from our artist in residence, Barbara Hellowell.
The Tree has been beautifully crafted using wire taking the form of a growing tree. Situated in our main entrance, the branches spread out over the curved foyer wall, welcoming you into the building. Each wire woven branch expands out with individual leaves bearing engraved names.

Here is how you can be part of the Lawrence Batley Theatre story…
How to get involved
The Tree carries leaves engraved with the names of those who have made a generous contribution towards the Name a Leaf campaign. Here are some of their stories…
You can name a leaf on our tree by making a donation of £100 or more. Your dedication can be for the memory of a loved one, a gift for a friend or relative, or yourself. The chosen name will be engraved on a plaque which will be attached to one of Barbara's beautiful wire leaves.
Your generous gift will help us to inspire, entertain, and share exciting stories with our community. 
About the artist
Barbara Hellowell BA (Honours) in Contemporary Art Practice is an artist in residence at the Lawrence Batley Theatre. Her main medium is sculpture and she specialises in using wire. Using nature as her guide she transforms lengths of wire into a three-dimensional expression of creativity and emotion.
Existing seat plaques
If you are one of our patrons who originally bought a seat plaque, please get in touch with Ella (ella@thelbt.org) with the plaque name, who can talk you through your options.

Terms & Conditions
Your dedicated leaf will be displayed on the sculpture for a minimum of five years.
A maximum of 20 characters may be engraved on each leaf.
You can view the tree on display when we reopen this September.