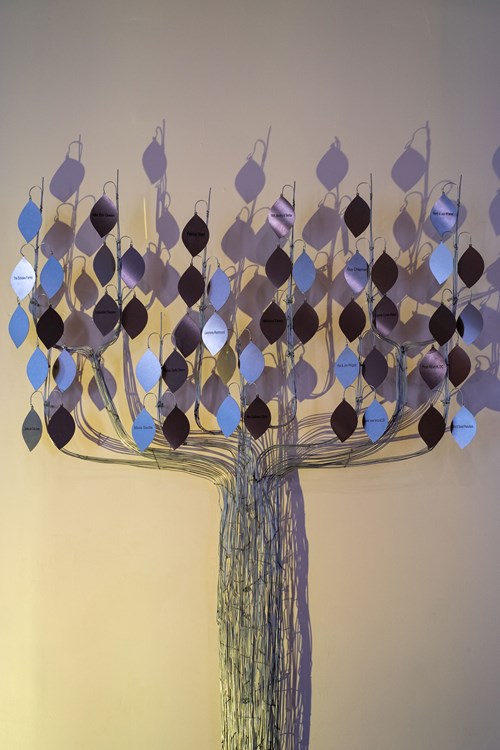 The Tree has been hand crafted by resident artist Barbara Hellowell, who created the wire woven sculpture to stand tall in our foyer, welcoming you into our building.
Be a part of our story
Name a leaf on The Tree by making a donation of £100 or more. 
Your dedication will be engraved on a leaf and added to The Tree. Your dedication could be for a friend or relative, in memory of a loved one, or for yourself. 
Our Development Officer, Ella will be in touch shortly after your donation to confirm your dedication. If you have any questions about naming a leaf, please get in touch with Ella (ella@thelbt.org), who can talk you through your options.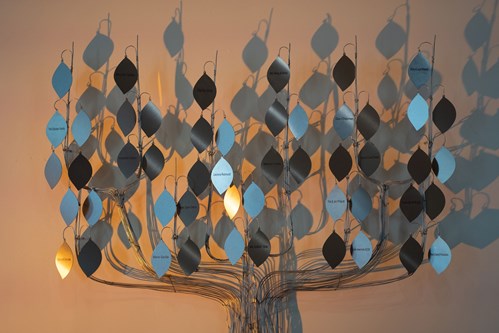 "The reason for the leaf is that the LBT is very special to us, we met there, we work there, it's allowed us to grow as people and together. The leaf is so we have a constant visual at the place we love."
"I was delighted to support the theatre knowing one of the leaves on the beautiful tree will live on in Huddersfield for many years to come. Thank you LBT for the wonderful opportunity to do such a special thing."
"When I was about 5 years old a new library was to be built in our town. My Dad bought a brick engraved with our names on as part of the fundraising campaign. Last year, I got a leaf from Lawrence Batley Theatre and put the names of my two little girls on it. When I showed Penny who is 3 last Christmas she walked around the building with a big smile like she owned the place. Well... maybe she does... just a teeny tiny bit of it."
Go to slide 0

Go to slide 1

Go to slide 2

About the artist
Barbara Hellowell BA (Honours) in Contemporary Art Practice is an artist in residence at the Lawrence Batley Theatre. Her main medium is sculpture and she specialises in using wire. Using nature as her guide she transforms lengths of wire into a three-dimensional expression of creativity and emotion, sculpture fires her imagination.
Terms & Conditions
Your dedicated leaf will be displayed on the sculpture for a minimum of five years.
A maximum of 20 characters may be engraved on each leaf.