Your Visit
Access
We want to make our theatre as accessible and enjoyable for as many people as possible.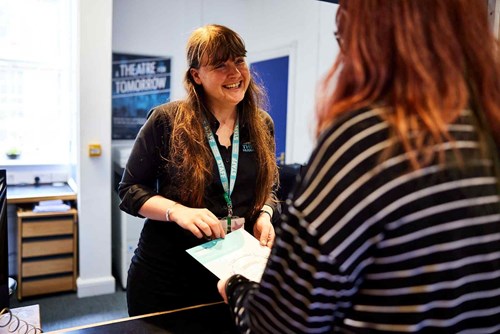 Accessibility is incredibly important to us here at the Lawrence Batley Theatre. 
Throughout our season we hold British Sign Language interpreted, Audio Described, Touch Tours and Relaxed Performances.
If you would like to make use of our facilities, please inform the Box Office when making your booking.
Upcoming access performances
By George - Thu 14 September, 7:30pm - BSL Interpreted 
Cinderella - Sat 9 December 2023, 6:30pm - BSL Interpreted 
Cinderella - Tue 12 December 2023, 10am - Audio Described 
Cinderella - Wed 13 December 2023, 11am - Relaxed
Cinderella - Sat 30 December 2023, 1:30pm - Relaxed 
Audio Brochure
Our latest What's On is available below as an audio brochure. Find out what we have coming up in summer 2023.
Our seats
The majority of seats in our theatre are front facing flip-up seats with armrests. The average seat width is approximately 39cm. The average legroom is approximately 60cm. End of row M, seats 11 and 12, have the closest access to toilets.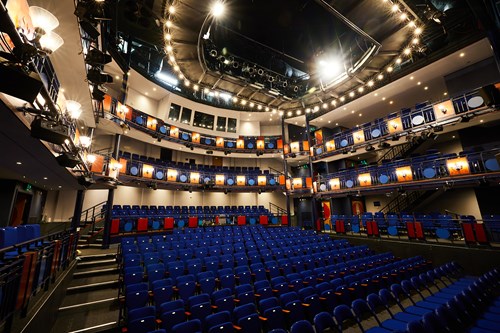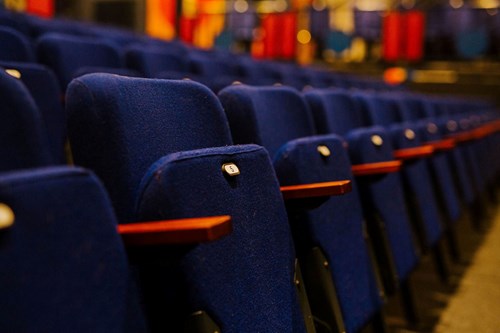 Stalls
There are two rows of side seats in our stalls. These are swivel seats that are locked in place, angled towards the stage. These side seats have no arms.
Tier 1 and Tier 2 
There are two rows of side seats without arms in our tiers. The front row are flip-up seats. The second row are swivel seats that are locked in place, angled towards the stage.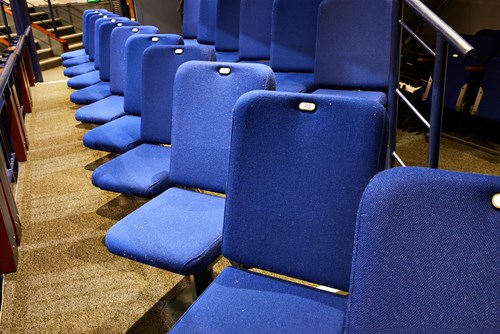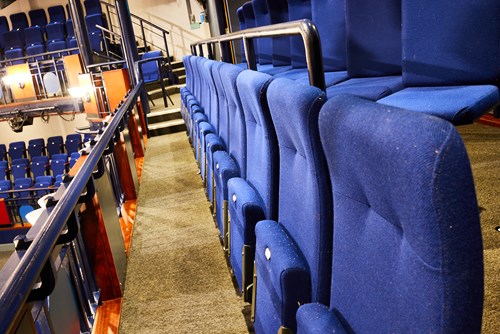 Wheelchair Access
Our Main House has two wheelchair spaces and we offer one free ticket for those visiting with carers.
Our Cellar is also accessible with an accessible toilet on the same floor.
To book a wheelchair space or carer ticket please call our Box Office on 01484 430528 or email enquiries@thelbt.org.
Companion Tickets
Hearing Loop, Captioning, BSL Interpretation
We use the Sennheiser hearing loop support system in both the Main Auditorium and the Cellar Theatre. For those using the system, it is simple to use and provides clear sound quality for every performance. It can be used with or without a hearing aid. If you are wanting to use the induction loop in the Cellar Theatre please contact the Box Office in advance of your visit so we can book you in.
Some of our performances may be captioned. This means that live text will appear by the stage for D/deaf and hard of hearing audience members to read along and enjoy the performance.
We also have British Sign Language (BSL) interpreted performances within our programme.
Details of upcoming captioned and BSL interpreted shows can be viewed above. You can also contact our box office for further information.
Guide Dogs, Audio Description, Touch Tours
Guide dogs are welcome here and a bowl of water will be provided on request. If you have a visual impairment, please inform Box Office at the time of booking, and you will be advised of the best possible seating areas.
Some of our performances will offer audio description. This is live commentary of the performance interspersed with show dialogue, played using individual headsets. 
Before audio described performances we offer audiences the opportunity to take part in a touch tour. In partnership with the company, audience members will be led on stage to familiarise themselves with specific props and elements of the set. Touch tours are free but must be booked in advance.
Details of upcoming audio described shows and touch tours can be viewed above. You can also contact our box office for further information.
Blue Badge Parking
The nearest blue badge parking is in Old Gate car park or on Cloth Hall Street. Check the council website for more information.
Relaxed Performances
Our relaxed performances are designed to create an enjoyable and relaxed atmosphere for anyone who would benefit from a more laid-back experience at the theatre.
During the show subtle changes are made to the sound and lighting effects and the auditorium lights remain on.
We expect more noise than usual from the audience during a relaxed performance so do not worry about being quiet. 
Audience members are also free to leave the auditorium at any point during the show if they need to take a break from the action.
Dementia Friendly
Our box office and front of house teams are dementia aware.
Toilets
In our Main House, end of row M, seats 11 and 12, in the stalls have the closest access to toilets which are located by our Box Office. 
On Tier 1, there are ladies toilets both on the left and right of the stage (when facing toward the stage). Gents toilets are on the right.  
On Tier 2, there is step free access to both ladies and gents toilets on the right of the stage. 
We are proud to share that our toilets now have free sanitary product dispensers from Aunt Flow. Find out more about Aunt Flow's mission to ensure that everyone has access to period products here.