Far Cry Acapella
Far Cry is a Huddersfield-based mixed acapella group that meets every Thursday (during term time) 7.30-9pm at the Lawrence Batley Theatre.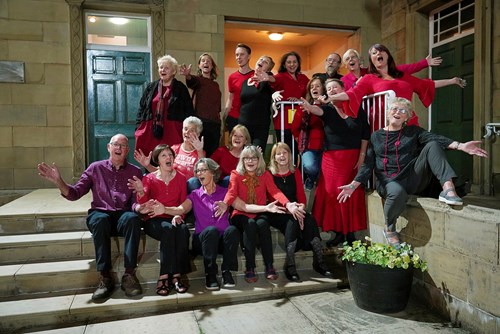 Far Cry is a Huddersfield-based mixed acapella group singing harmony songs from different cultures and traditions, including songs of freedom as well as more popular tunes – anything from 'Moon River' and 'Don't Fence Me In' to a rousing Luddite tribute, Georgian lullabies, African work songs and Christmas folk carols led by Musical Director Jenny Goodman. There are also songs written by Jenny herself plus a sprinkling of classic pop and a hearty dash of social justice. All in scintillating four or more part harmony!
Jenny is one of the most experienced and inspiring teachers of acapella harmony in the Natural Voice tradition in the UK. For years she had been teaching open access harmony singing groups but many of her singers wanted something more challenging and so did she!
Over the years Far Cry has developed into a brilliant, committed team of singers which aims for the highest possible standard and works hard to sound really good. Although not a political choir, group members share a commitment to equality and justice - however everyone is  as equally as happy to don their cowboy hats for 'Don't Fence Me In' and indulge in the spine-tingling harmonies of a traditional Bulgarian lullabye.
Previously the group has sung at local Festivals (Hebden Bridge & Holmfirth Arts Festivals, Slaithwaite Moonraking), in libraries, on the streets, at local carol concerts, popped up at a well-being conference … there are also occasional workshops where you can experience the full Far Cry experience.
The group also has a Facebook page Far Cry Acapella.
If you would like to get in touch please contact Jenny Goodman on 07984 584923 or singing.jennyg@googlemail.com