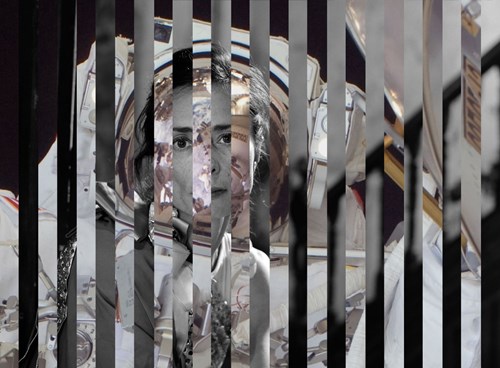 We have a long history of bringing ground-breaking contemporary dance to our stage and this Spring we are thrilled to be developing a new partnership with the award-winning, Bristol based company Impermanence, who create transformative, entertaining and world class productions.
Josh Ben-Tovim, one of the two Directors of Impermanence, shares some thoughts on their upcoming visit to Huddersfield.
We are really proud to be working with Lawrence Batley Theatre and opening VENUS in Huddersfield. The theatre has been very generous to us, giving us rehearsal space and time with their tech team to prepare ahead of taking the show out on tour.
The relationship with the theatre has grown over several years. We first met at a networking event that was looking to introduce Northern venues to new artists in 2018. I was personally really excited to be making a link with the theatre as I grew up in Yorkshire. I started dancing properly at the Northern School of Contemporary Dance in Leeds when I was 15, travelling there after school twice a week. Finding a way back to making some connections with institutions in Yorkshire feels like a lovely rounding of a circle.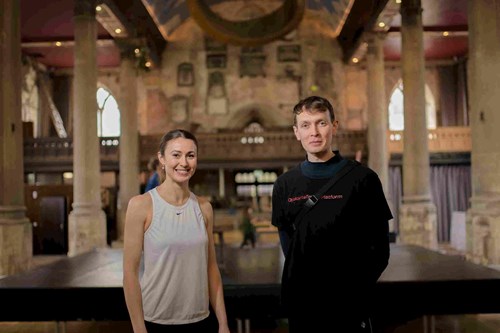 VENUS is the culmination of about 4 years of work. We wanted to make a show that felt like a full evening's entertainment and could justify being in big, beautiful theatres like the Lawrence Batley Theatre.
The show is a quadruple bill, bringing together four exciting works in what felt like the best way to introduce people to the range of work we make. I wanted to share a little bit of backstory on the process we've been on to get each of the four pieces made:
FERAL is a film that I made with a composer called Hollie Harding who has a residency with the London Symphony Orchestra who supported the project. Hollie wanted to work from George Monbiot's amazing book Feral and when we contacted him to ask if he would like to be in the film - to our surprise he said yes! We quickly set a date and spent a day filming with him and his canoe in the flooded fields around Oxford. The film has been in post-production since. We think it's beautiful and will look great in a theatrical context.
COSMIC YOGHURT was created by Roseanna Anderson - who is the other director of Impermanence. She made the piece through a commission from an art gallery in Wiltshire called Messum's, where she is now a represented artist. Her key collaborator - alongside the brilliant award-winning folk singer Nick Hart - was Pam Tait, a designer we have both worked with for a long time. Pam and Roseanna developed a world through which they could communicate something of the incredible life of Leonora Carrington, an artist who deeply inspired them both. Pam has an incredible way of showing abstract ideas and worlds in exciting contemporary costumes.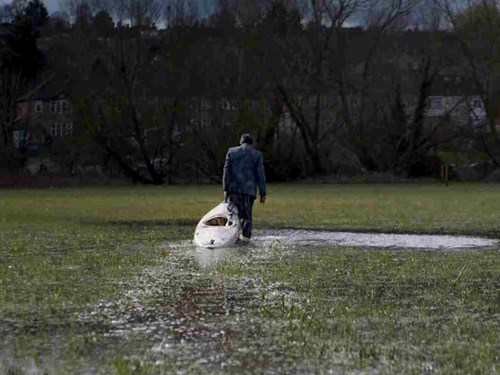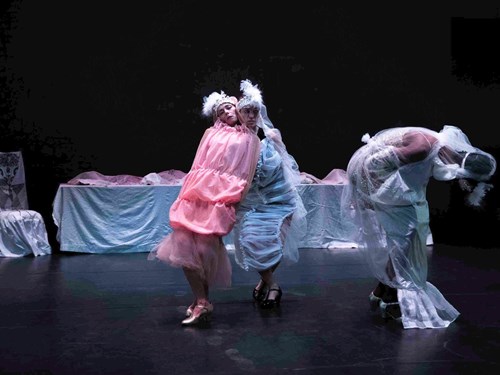 ENEMY OF THE STARS is a duet I created a few years ago whilst on a scheme led by the late Sir Robert Cohan, who brought contemporary dance to the UK in the 60's and established the London Contemporary Dance Theatre. The piece has been kept on a shelf since, so I'm really looking forward to giving it a new lease of life with two amazing dancers, Kennedy Jr Muntanga, who was involved in it's creation, and Kip Johnson, who we're working with for the first time. The piece is an intense duet inspired by a text written by Percy Wyndham Lewis just before WW1.
And then finally VENUS, our big new creation this year. We have been on a research journey for the last 3 years looking at the intersection between cabaret culture in the early twentieth century, modernist magazines and the primordial soup of radical ideologies that was spiralling at the time. We've produced various bits of work relating to this area over the last few years, you can watch our award winning film BLAST here. I think the thing which feels most exciting is the team we've managed to bring together. We're working with seven of the most brilliant dancers on the scene, an incredible writer, composer, designer, lighting designer as well as behind the scenes team with a wonderful stage manager, producer and marketing support.
It's the first time we've made a big bit of work since BC (Before Covid) and after 11 years of running the company, the process has never felt so harmonious and full of life. We're super happy with how the piece has turned out and hope it will live on for many years to come.
VENUS is at Lawrence Batley Theatre on Thu 20 April 2023. Click here for more information.