Huddersfield Literature Festival presents an electrifying poetry performance and Q&A with Festival Patron Lemn Sissay OBE, to celebrate the publication of his new collection, Let the Light Pour In, followed by a book signing.
For the past decade, Lemn has started each day with an act of hope: composing a short poem at dawn. Poignant, often humorous and full of wonder, these poems chronicle his own battle with the dark and are fuelled by resilience and defiant joy. Let the Light Pour In celebrates this morning practice with a selection of these life-affirming poems collected together for the first time.
A not-to-be-missed event with an exceptional writer and performer.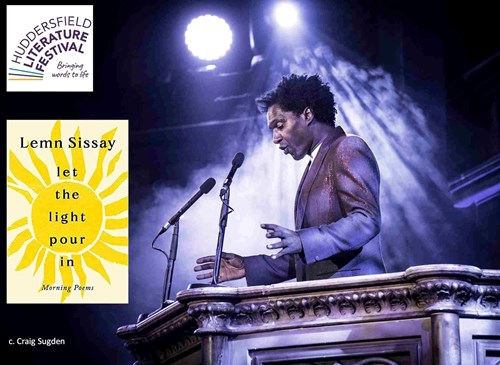 Dates
Fri 29 September 2023
About Lemn Sissay OBE
Lemn Sissay OBE is a poet, playwright, memoirist, performer and broadcaster. He is the author of several poetry collections, including Gold from the Stone, the No 1 Sunday Times bestselling memoir My Name Is Why and the children's book Don't Ask The Dragon, illustrated by Gregg Stobbs.
Lemn was awarded The Pen Pinter Prize in 2019 and has been nominated for and won numerous awards for his writing, TV documentaries, radio work and plays. He was the first poet commissioned to write for the London Olympics 2012 and has judged many prestigious literary competitions. He has also worked in music over the years, including with Leftfield, Baaba Maal and the BBC Proms.
In 2015 he brought a legal case against the government for critical mistakes in the first 18 years of his life; the government settled out of court in 2018. In 2020, the BBC series imagine… broadcast a two-part documentary about his life, The Memory of Me.
In 2021 he was named OBE for services to Literature and Charity. The University of Huddersfield has awarded him an honorary doctorate, and has also established the Lemn Sissay PhD scholarship for Care Leavers.