Get Involved
Community Production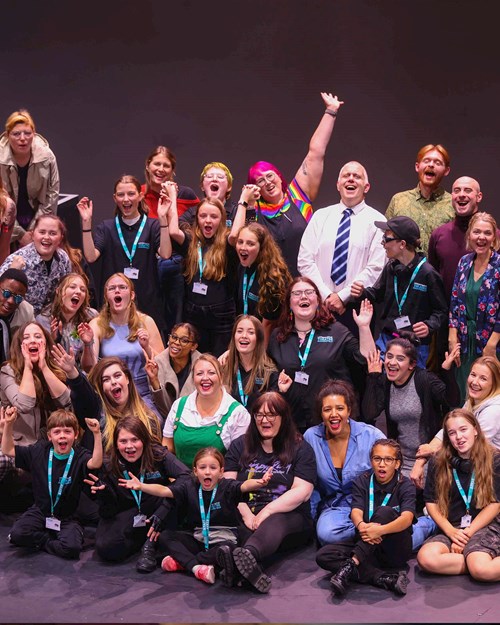 As a building built by and for the community, our community productions are at the heart of what we do. Bringing people of all ages from across Huddersfield and Kirklees together to tell incredible stories.
Our community productions are a chance for local people to star on our stage in a fully produced show. Our previous community productions have all been adaptions of classic plays or stories with an added Lawrence Batley Theatre twist and have included Henry V, our ★★★★ (The Stage) animated version of A Christmas Carol, Macbeth and The Tempest.
This year's community production will be a contemporary adaptation of Mary Shelley's Frankenstein. Adapted by critically acclaimed West Yorkshire based writer Chris O'Connor, our Frankenstein will explore the stories science fiction themes and is inspired by artificial intelligence, digital technology, catfishing and social media.

The show will be performed on the main stage of our theatre from Thu 21 – Sat 23 September 2023.

Our community production is for everyone. It's open to all ages, and we would encourage anyone who is interested to get involved.
We will be holding some community production information sessions at the theatre where you can meet the team and find out more about the production and getting involved.
These sessions will be taking place on: 

Wed 21 June, 6:30pm & Tue 27 June, 6.30pm
No need to book a place, just come along!
We'll be then holding friendly audition sessions on:
Sat 1 July, Sun 2 July & Mon 3 July
Our auditions are very friendly and are an opportunity to get to know you and enable us to distribute key roles. Please don't feel nervous, if you want to be involved, there will absolutely be a role for you within the production.
If you want to be involved in the production but within the backstage team rather than as a performer, please send an email to olivia@thelbt.org for more information (you must be over 16).
Please follow the link below to sign up for an audition for this year's community production.