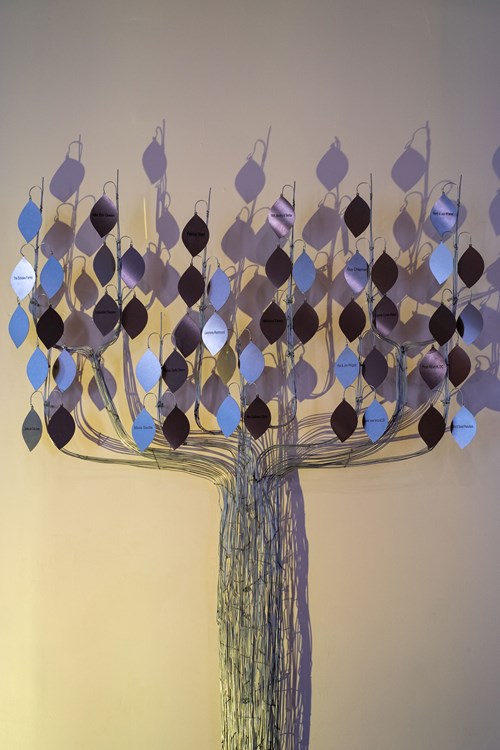 The Tree carries leaves engraved with the names of those who have made a generous contribution towards our Name a Leaf campaign. The Tree has been hand crafted by resident artist Barbara Hellowell, who created the wire woven sculpture to stand tall in our foyer, welcoming visitors into our building. 
Here are some of their stories...
Chelsea Baynes: "Both me and Charlie hadn't performed for a few years after university. We signed up for Macbeth (Lawrence Batley Theatre's Community Production), we didn't know each other beforehand but grew our relationship. The reason for the leaf is that the LBT is very special to us, we met there, we work there, it's allowed us to grow as people and together. The leaf is so we have a constant visual at the place we love."
Rebecca Winwood: "When I was about 5 years old a new library was to be built in our town. My Dad bought a brick engraved with our names on as part of the fundraising campaign. It was a significant amount of money for a young family but my parents felt strongly that it was an investment. An investment of years if story times, summer camps, imaginative play and help with homework. An investment not just for their children but others in the community. Whenever we visited the new library with school I bragged to my little friends that I owned this bit of the library where my brick was.
Last year, I got a leaf from Lawrence Batley Theatre and put the names of my two little girls in it, "Penny and Layla". When I showed Penny who is 3 last Christmas she walked around the building with a big smile like she owned the place. Well... maybe she does... just a teeny tiny bit of it."
"Born and bred in Huddersfield I have been delighted to visit LBT over the years. Both my children (now 41 and 35!) enjoyed being part of the LBT youth theatre. They had a sister born in 1985 who was very premature and lived for just half an hour, we named her Mavis after her Grandma who had sadly died when her 2 children were very young. I was delighted to support the theatre knowing one of the leaves on the beautiful tree will live on in Huddersfield for many years to come. Thank you LBT for the wonderful opportunity to do such a special thing."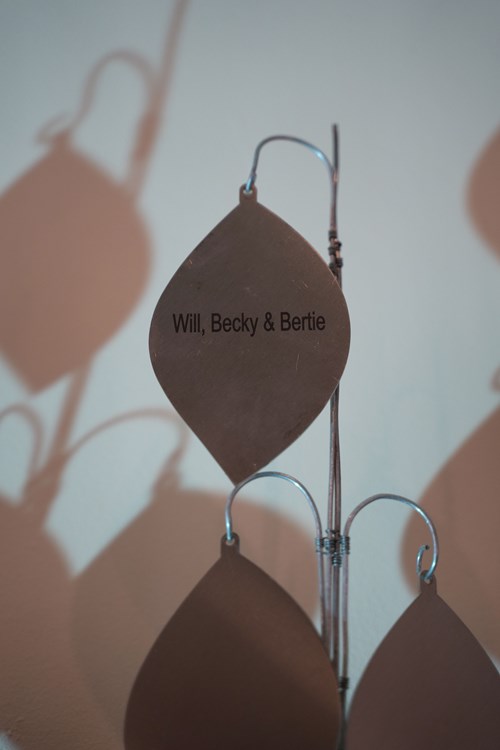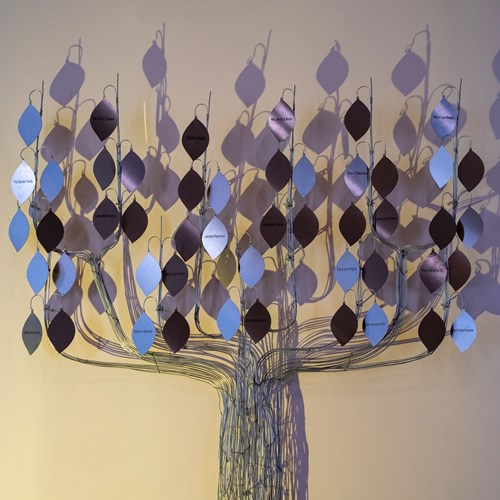 Katie Philpott: "My late father, Mr Jim Philpott, was Director of Kirklees Leisure Services in the 1980's and was part of the team that managed to get the go ahead to convert the squash courts at that time into a theatre. It was always close to his heart and my mother and father loved to visit the LBT theatre when my dance school performed their shows (Katie Philpott School of Dance based in Mirfield). It seemed only fitting to have their names, Pat & Jim Philpott, forever engraved in the beautiful sculpture in the entrance to the theatre."
Huddersfield Thespians: "The Huddersfield Thespians have been at the heart of Huddersfield drama since 1920 when the society was formed. We performed in many theatres in the town and helped fundraise and contribute to the theatre when it became the LBT in 1994. We were the first drama group to perform on the main stage and are proud to have performed at the LBT every year since then.
Many of our actors and technicians have gone on to work in the professional world of drama – Kenneth Waller, Thelma Pigott, Nick Moran, Adrian Bray. The LBT is central to our mission of bringing theatre made by local people, for local people, to Huddersfield. We provide opportunities for actors and technicians to use the theatre – to learn our trade and entertain our audiences. The LBTs story is our story. We are very proud to be part of this amazing story."
Barbara Hellowell: "Creating 'The Tree' was my way of thanking the LBT for providing a wonderful and friendly workspace and encouraging my development as an artist. I relished the opportunity to create a work of art that inspires people to support the LBT"