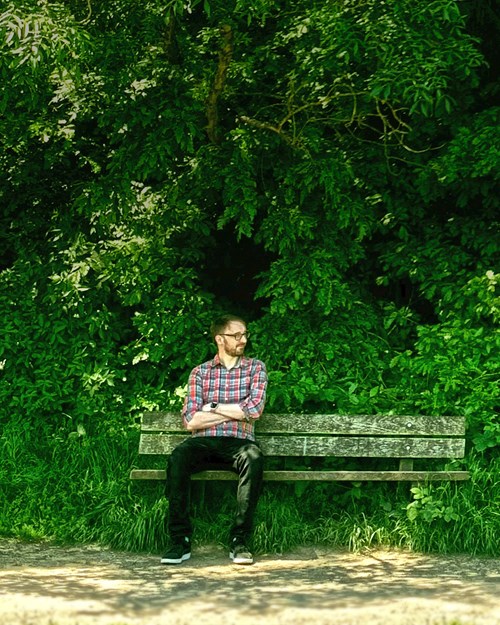 Find out more about Sam's new show, Every Little Hope You Ever Dreamed (But Didn't Want To Mention).
Sam Freeman is the writer, director and performer in Every Little Hope You Ever Dreamed (But Didn't Want To Mention). Originally from Leeds, he grew up in Scarborough before training in York and Holland. His produced plays include Floating, Revenge and Three Cheers For HRH and he directed Chris Chibnall's (Broadchurch) footballing comedy for Unity Theatre.
How did you start in theatre?
Theatre's always been part of my life - my parents did amateur dramatics and from as young as I can remember we used to go to the Stephen Joseph Theatre in Scarborough where we lived to see Alan Ayckbourn's shows.

I wasn't a cool kid (and still definitely aren't), so theatre fitted me well - it was, or at least the groups I hung out with, lots of people who weren't cool which was, frankly, a relief. I always enjoyed theatre and performing informally, I'm a weird mix between introvert and extrovert which meant I never felt confident in my creative side. It took until I was 26 until I actually stepped on stage to perform. It's exactly as terrifying as you think.
Where did the idea come from?
In 2010 I moved to Liverpool and decided to try performing stand up comedy. I was okay but not brilliant at first, but I ended up writing a set that was me reading a story from a book to the audience. It shouldn't have worked, it was so theatrical, so different to everyone else at the time, but it always worked. So naturally I decided with that success to not do it again for 4 years (until I rediscovered it a few years ago).

The idea for the show came in 2020, as most ideas come from, from life – the show is things I've experienced or lived (pre-Covid!) - that idea of having a hole in your life and looking for the right person to fill it (yes that totally sounds rude) was me in my early twenties.
Memorable moments from doing stand up?
Noone ever wants to know about successful gigs, so I'm not going to talk about them. I did a gig in Stoke where after the gig a man told me how much he loved me and insisted we had our photo together. As he walked off he said "Cheers Tom, hope you get on TV again". Turns out he thought I was Tom Stade who was headlining (who he'd seen on stage some 10 minutes earlier).

I also got booked to perform a solo show in Liverpool but no-one turned up because the venue had forgotten that Liverpool were playing Everton the same night – absolutely harrowing, made worse by the guy running the venue still insisting 40 mins after the advertised start time that there might still be some people who arrive late.
What's the show like?
It's a storytelling show where I read a story to the audience for 72 minutes. It's five inter-connected stories all about love – I'm told ("told" to avoid sounding arrogant) that it's really sweet and romantic, but also funny too. I'm also told ("also told" to avoid sounding arrogant) that it's a bit like a mix between Richard Curtis, Daniel Kitson. Tom Wrigglesworth and an audiobook – I'd be happy to be 10% as talented as any of them – it's probably influenced a bit by Kitson and Curtis, but more by a comedian who's a genius called Will Adamsdale and a writer/performer called Inua Ellams.
Are you a romantic?
Yes and no. I have moments of being romantic. I'm a tragic romantic. I once text a girl I liked asking if she'd like a cup of tea, she said yes, and so I made two mugs of tea and walked from my house to hers. It turns out she lived much further away than I remembered – when I got there I had burnt hands and two cold, half empty, mugs of tea – she laughed at me a lot. So probably reasonable marks for romance, but zero marks for execution.
What's your favourite romantic comedy?
Before Sunset – it's part of a series of films that are wonderful and all set in beautiful cities in Europe. I think there's probably a bit of an influence from Before Sunrise in my show too.
If you had to sum up the show?
I didn't write this but I think it's the best description I've read so I'm going to shamelessly steal it – it's a rom-com for the lonely-hearted. You'll know if that's you or has been you at some point in your life.