Get Involved
Truth To Power Café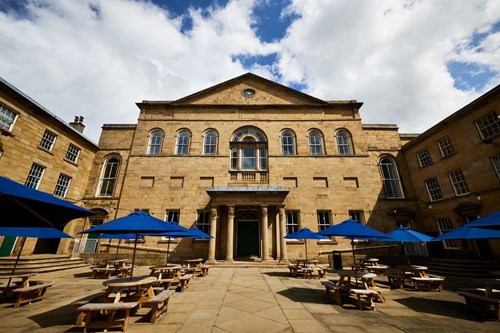 Jeremy Goldstein's Truth to Power Café is a profound theatrical reflection on loss, hope and resistance.
This internationally acclaimed performance event invites the people of Huddersfield to stand up on the Lawrence Batley Theatre's Main Stage and speak from the truth of their lived experience in response to the question 'who has power over you and what do you want to say to them?' Is it your parents, a sibling, politician, lover, landlord, neighbour, religious leader, boss, banker, or simply your best friend? It's time to tell them the truth before it's too late.

Truth To Power Café is coming to the Lawrence Batley Theatre on Saturday 19 March 2022. We are looking for a range of participants from across to Huddersfield to take part. 
"I had a wonderful uplifting time and sparkled all the way home."
"The Café is amazing. Thank you for carrying this stage around the world."
Go to slide 0

Go to slide 1
When and where will Truth To Power Café take place?
Truth To Power Café will take place on Saturday 19 March 2022 at 7:30pm on the Main Stage of the Lawrence Batley Theatre, Huddersfield.
How old do I need to be to take part?
This opportunity is for people aged 14 and over.
What is the commitment?
Participants will have rehearsals at the theatre on the afternoon of the performance date (Sat 19 March 2022).

A couple of 1-to-1 sessions will happen with Jeremy Goldstein in the run up to the performance.
Do I need previous performance experience to take part?
No experience of performance or public speaking is necessary. We welcome people with true and authentic stories to tell in response to the question and the event is open to people of all experiences and backgrounds.  
How do I sign up to take part?
To sign up now click here to send us up to 100 words in response to the question and we will be in touch.